2 years ago today on January 23, 2007 at 1:58 pm my dreams came true.
I became a mommy to a beautiful 8 lb 5 oz baby girl.

After years of waiting, our beautiful Katelyn Grace entered the world.
Words cannot describe the love
I felt at that moment.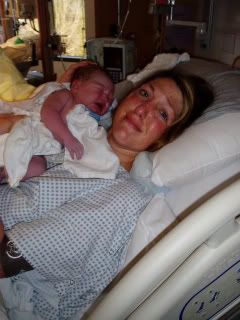 1 year ago January 23, 2008 Kate turned 1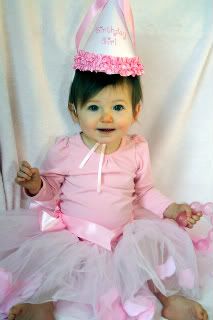 Today she turns 2.

Kate has grown so much this past year.
She has gone from a baby to a toddler to a little girl.
Kate became a big sister this year & it has been amazing for me to watch how that has shaped her. Before Claire was born, Kate didn't give hugs to anyone but Kevin and I (and *sometimes* her Grandmas). But, since Claire has joined our little family, Kate has totally blossomed with her affection. She will go up to friends & family and say "I want hug". It is so precious. She loves getting hugs now, especially from her buddies.
Kate loves her weekly playdates with Maddie and her park & Starbucks dates with Taylor. Kate has a few perspective boyfriends...Anders, Gavin, Will & Owen.


Kate is still shy in new situations, but once you get her warmed up, watch out! Kate's favorite show is Backyardigans which she calls "Yip Yip".

Kate is a Daddy's Girl. She LOVES her Daddy. Whenever he is at work, she asks to call Daddy or tells me she wants Daddy. They have such a special relationship!


Kate's personality & sense of humor has emerged this year. She copies what we do & say & laughs at us. She is a goofy little girl with beautiful green eyes & a gaped tooth smile. Kate loves to run around the kitchen & dining room yelling "I fast! I fast!"

My favorite thing to watch Kate do is interact with Claire. She likes to involve Claire in everything. She will bring her toys, dolls, blankets & pacifiers. If I need to change Claire's diaper, Kate will help me & go get the diapers & wipes.

One of the first things Kate does when she wakes up in the morning is she will say, "Where's Hair? I want Hair" We will go get Claire and Kate will get right in Claire's face and say in the cutest voice, "Hi Baby... Hi!"

I am so blessed to be Kate's mommy. She brings me more joy than I could ever know. She is truly a gift from God. I wish she knew how much I love her & how thankful I am to be her mommy. She has enriched my life in more ways I thought possible. I thank God everyday for allowing me to experience life with Kate.

Happy 2nd Birthday Little Girl!
May all your wishes & dreams come true.
I love you!