Do you like change?


Normally, I do not like change.
Change is scary.
But, over the years, I have learned change can be also be a good thing.

Right now, I have a lot of change going on in my life.
A new house, new neighbors,
the school year is ending, a new principal at my school next year,
and now I have decided to change the name of my little side business.

Previously, my etsy shop was named MKL Designs.
MKL represents my initials. (Boring & not memorable if you ask me)
I never really liked the name but I just kept it.

I have been wanting to change the name of it for a while, especially since I have been doing more photography on the side. MKL Designs just didn't cut it as a name for a photography business.
Word of mouth has been spreading about my photography & I have 6 sessions in the next month, I decided I needed a name to incorporate my etsy shop and my photography!
So, my official business name has been changed to:

Daylight Designs & Photography
My Etsy shop is now called:
It has the same web address as before www.mlarson17.etsy.com
So, if you have an old MKL Designs button on your blog, you might want to replace it with this one: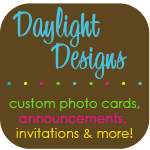 Which is found on the left side of my blog, near the bottom.
It is very exciting & I am excited to see how my etsy shop & my photography grow and change in the next year.
I have a TON of invitations. products & holiday card ideas that I want to create this summer & add to my shop like.....ladybugs, ballet, princesses, circus, dinosaurs, pirates & zoo animals!
Here are a few recent items I have added to my etsy shop:
Like always, colors & wording can be customized to meet your needs!
And, I have a new product, personalized note cards!
They can be customized to match any invitation in my shop, and customized with whatever wording you want! They are 4.5 x 5 inches & come with envelopes.
Here are a few samples:
I am loving the owl theme that is popular right now!
Baby Shower thank you:
Silhouette Note Card:
In honor of the name change, new products & a new season (Summertime!!!)
Let's do a giveaway!
How would you like a set of 25 personalized note cards?
They can be any color, with any graphic/clip art you see in my shop & have whatever wording YOU want!
They can be personalized for yourself, one of your kids, or a friend!
Just leave a comment to enter!
Giveaway ends at midnight Friday, June 11th!