It's time for the Ultimate Blog Party!

My name is Mel & if this is your first time visiting, here is a little info about me!
I have been married to Kevin for 8 years (in August).
We have 2 beautiful little girls!
Kate is 3 and one of the sweetest little girls I know!
Claire is 19 months old and FULL of energy!
And, we one crazy but love-able yellow lab named Boulder.
I am a former collegiate soccer player (Go Buffs!)
I am part time middle school math teacher and I also have a side business of photography and my etsy shop is
MKL Designs
where I sell my custom photo birth announcements, shower invitations, birthday invitations, holiday cards & more!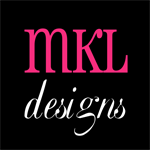 I am a California girl, born & raised!
I love coffee, photography, pedicures & wine.
I stay up WAY too late every night.
I am a procrastinator...we are moving in 3 days & instead of packing, I am blogging!
My family & friends mean the world to me.
I love to cook & I post some of my favorite recipes here on my blog!
Most of all I love Jesus & I am thankful for the life he has blessed me with.
In honor of 5 minute for Mom's 2010 Ultimate Blog Party, I am doing a giveaway!
You can check out my etsy shop,
MKL Designs
to see all my designs (birth announcements, baby shower invitations, bridal shower invitations, birthday party invitations & more!)
Follow along & leave a comment on this post to be entered to win one of my card designs & 25 prints/envelopes! The winner will be picked next weekend using random.org
If you want to read even more random stuff about me, you can click
THIS POST
.
Thanks for stopping by!